We Offer the Best Ford Service Team in the Marietta Area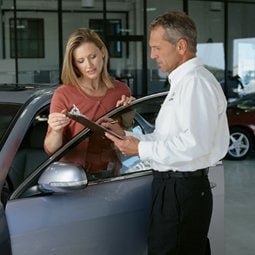 We have the Marietta, OH area's leading Ford service department here at Family Ford. You worked hard for your new Ford, why not keep it in its best condition? Our in-house service department is equipped to work on any Ford vehicle to the highest industry standards. Turning to our expert Ford service personnel is the best way to ensure that you receive the highest quality of maintenance and repair work that is delivered at excellent value.
Key Reasons to Choose Our Ford Service Department in Marietta, OH
There are many reasons to choose Family Ford for your Ford service needs. Our highly trained service technicians utilize genuine OEM parts for all of the work that we do on your Ford vehicle. Our team maintains an extensive stock of genuine Ford OEM parts and can order any parts that we do not currently have on hand. Beyond this, we care about delivering outstanding customer service that leaves you completely satisfied with your experience. Our goal is to ensure that your Ford vehicle is operating at peak efficiency and to the highest safety standards.
The Importance of Using Genuine Ford OEM Parts
The fact that we utilize genuine OEM parts is one of the key reasons why we can deliver such excellent service to our customers. OEM parts are designed to be an exact match for your vehicle and are superior to aftermarket part options. You can rely on our service department team to use genuine OEM parts in all of the work that we perform on your Ford vehicle.
Schedule Your Ford Vehicle Service Appointment Today
Our team is standing by ready to schedule your service appointment for your Ford vehicle. Reach out to us today with any questions that you have about the service options that we can provide you here in Marietta, OH. We look forward to being of service.